Compact three-way floorstander
KEF engineers do not believe in compromise, the R5 floorstander is compact and elegant yet it delivers music and movies with ease. The svelte R5 contains a Uni-Q with 125mm (5in.) midrange driver and 25mm (1 in.) aluminium dome tweeter for incredible detail while twin 130mm (5.25in) hybrid aluminium bass units manage the bass.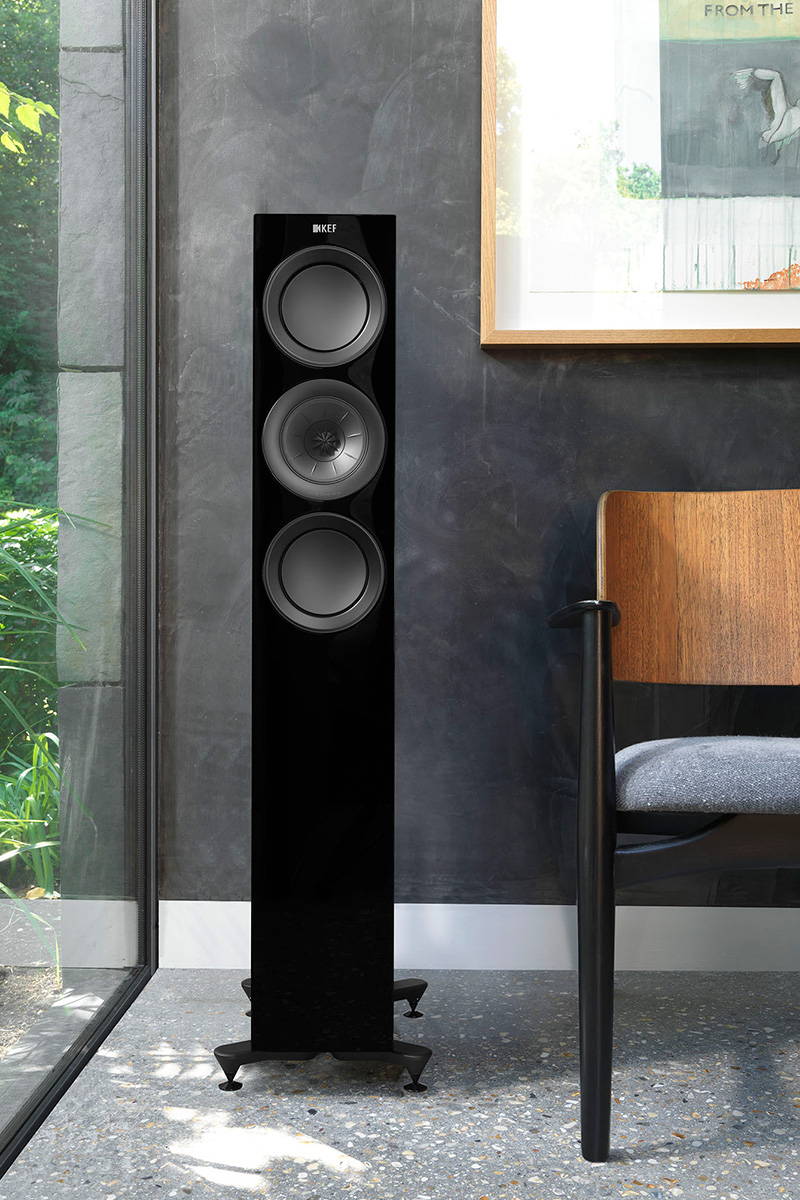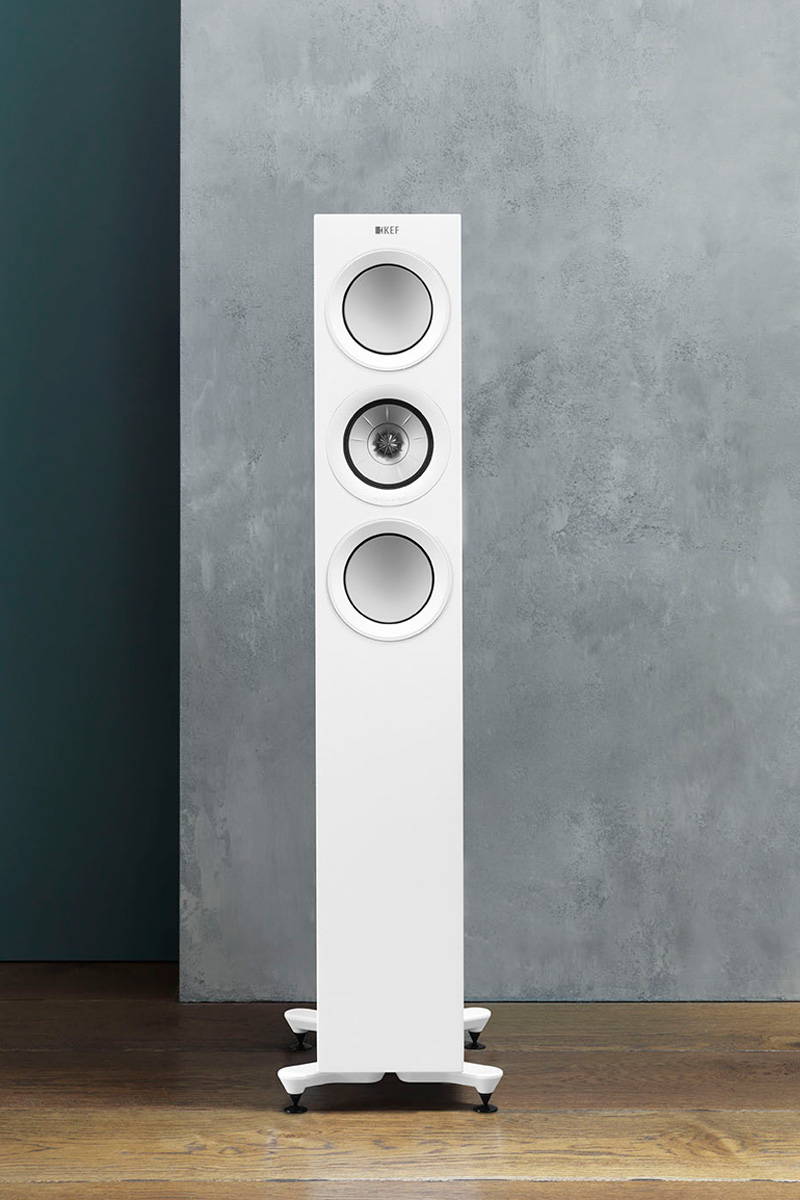 The Details
---
SPECIFICATIONS
Design
Three-way bass reflex
Driver Units
Uni-Q Driver Array: HF: 25mm (1in.) vented aluminium dome MF: 125mm (5in.) aluminium cone Bass Driver: LF: 2 x 130mm (5.25in.) hybrid aluminium
Weight
27.3 kg (60.2 lbs.)
Dimension (HxWxD)
1025 x 175 x 343.5 mm (40.4 x 6.9 x 13.5 in.) with terminal*
Dimension (HxWxD)
1071.4 x 271.6 x 343.5 mm (42.2 x 10.7 x 13.5 in.) with Plinth*
Sensitivity
(2.83V/1m) 87dB
Frequency Range
38Hz-50kHz (-6dB)
Typical In-Room Bass Response
29Hz (-6dB)
Frequency Response
52Hz-28kHz (±3dB)
Harmonic Distortion
<0.3% 120Hz-20kHz (90dB, 1m)
Amplifier Power
15-200W (recommended)
Nominal Impedance
8Ohms (min.3.2Ohms)
Driver Units
Uni-Q Driver Array:
HF: 25mm (1in.) vented aluminium dome
MF: 125mm (5in.) aluminium cone
Bass Driver:
LF: 2x 130mm (5.25in.) hybrid aluminium
Crossover Frequencies
400Hz, 2.9kHz
Finishes
Black Gloss / White Gloss / Walnut
KEF reserves the right, in line with continuing research and development, to amend or change specifications. E&OE. * Measurement per unit
---
AWARDS & REVIEWS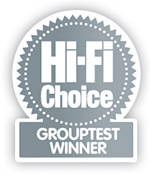 HI-FI CHOICE
Great looks, build and finish; glorious sound; terrific value.'
Full review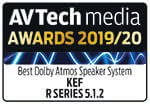 BEST DOLBY ATMOS SPEAKER SYSTEM AVTECH MEDIA AWARDS 2019/20
"A soundfield with overhead immersion, towering scale and an enjoyment across the frequency band.'
Full review

5 GLOBES – HI-FI WORLD
"Their resolution of fine detail is superb and, with strong projection, illuminates orchestral works" — 2019
Full review
---
R5 speakers are a dream
My aim was to get a quality stereo sound from a set of speakers that looked good and were compact in size, but didn't compromise on sound. I researched what was to offer. Firstly they had to fit into my room which is an average living room, so size was important. This narrowed down the search. I went for floor standing thinking their footprint would be better than bookshelf on stands. It was down to Sevenoaks who had put together a couple of speakers that fitted my requirements too play with. It ended up between the Kef R5 and a set of B&W 704 s2. Let the battle begin I thought. The B&W speakers are great sounding speakers but this just showed how amazing the Kef R5 speakers are, because they were head and shoulders in every way better than the B&W704's
I got the Kef R5's in the Walnut finish which look amazing. The speakers came well packed in their boxes with good instructions on how to build and set them up. Just a heads up they are heavy which gives a nod to their solid build quality. I connected them to a NAD M10 V2 streaming system and was blown away from the start. I have a massive grin every time I listen to them, either it being Hi-Res music or from my TV. So clear and precise that you can identify each instrument being played, but has also a lovely warm felling with a great bass note.
I f you are looking for a great sounding compact floor standing speaker system that looks fantastic, then you will not be disappointed with the Kef R5 speakers. They will be hard to beat.
Step up from R3
After years of owning a grand pair of EPOS ES-14s, I could find nothing that bettered them that were sensible money. Then my brother and I had a demo of the R3s in Canterbury HiFi. It was one of those wow moments. We first heard the Monitor Audio Studio's and were definately impressed. Within the first few bars of playing the R3s we both just turned to one another and knew. I bought those and finally upgraded from the ES14s. They quite rightly deserve the reputation they have gained, absolutely stunning performance for the money. I had the R3s for about 18months with various amplifier iterations, ending up with an Arcam S30. Then I had an oppertunity of hearing the R5s in and AB demo. Wow again. They are a significant upgrade again, more scale, more depth, more detail while retaining the audio personality of the R3s. Fantastic. Recommended.
Great Fun
Great speaker and looks great well balanced