The Biggest Small Subwoofer
KC62 is an incredibly compact subwoofer that delivers the might and magic of deep, accurate bass for a thrillingly immersive music, movie and gaming experience. Created using innovative KEF engineering including the ground-breaking Uni-Core® technology, the football-sized KC62 features two 6.5inch force cancelling drive units powered by 1,000W RMS of specially designed Class D amplification.

STEREONET PRODUCT OF THE YEAR AWARDS 2021 - SUBWOOFER
"It looks great, doesn't take up much space (at 246x256x248mm) and packs 1kW of power from twin 500W Class D power amps. Its strong, light magnesium cabinet is a work of art, and it's a highly effective bass maker, punching out up to 105dB of tremulous low frequencies despite those diminutive dimensions." - StereoNET, Dec 2021
FULL REVIEW
Don't let the size fool you
Deep and powerful bass is no longer solely the domain of big-shouldered, massive subwoofers. KC62 is David to their Goliath; an ultra-compact subwoofer capable of delivering accurate, deep bass for an immersive music, movie and gaming experience at complete odds with its modest dimensions. And just as David beat Goliath, so KC62's performance renders these subwoofer behemoths obsolete.
Uni-Core® Technology
Craving an immersive entertainment experience but put off by bulky subwoofers? KC62's patented Uni-Core technology revolutionises the traditional force cancelling design to deliver deep accurate bass from an ultra-compact cabinet. Combining both drivers into a single magnet system allows cabinet size to be reduced by over a third, while also increasing excursion to unlock exceptional output and depth.
EXPLORE MORE
---
1,000W RMS
Turn up the Power
KC62's twin drivers are powered by 1,000W RMS (2 x 500W) of specially designed Class D amplification, providing exceptional levels of control and the ability to deliver sudden bursts of power when required, for example when enjoying your favourite high-octane action sequence.
---
5 Pre-sets
Same performance, everywhere
KC62 slips effortlessly into any environment or listening room, with the five pre-set Room Placement Equalisation feature ensuring the same performance no matter where you decide to place it; in free space, next to the wall, in a corner, nestled within a cabinet or using the dedicated apartment mode.
---
Well Connected
KC62's connection options allow it to be used with almost any audio system, with KEF SmartConnect and speaker level inputs eliminating any connection issues. Line output with High Pass Filter (HPF) allows for exceptional fine-tuned integration, and KC62 is also compatible with the KW1 for simple wireless compatibility. 
---
Design meets substance
Crafted from extruded aluminium, KC62's curved cabinet perfectly blends form and function, providing strength and beauty. Small enough to blend into any décor, the Carbon Black, Mineral White and Titanium Grey finishes also make KC62 an exceptionally attractive statement.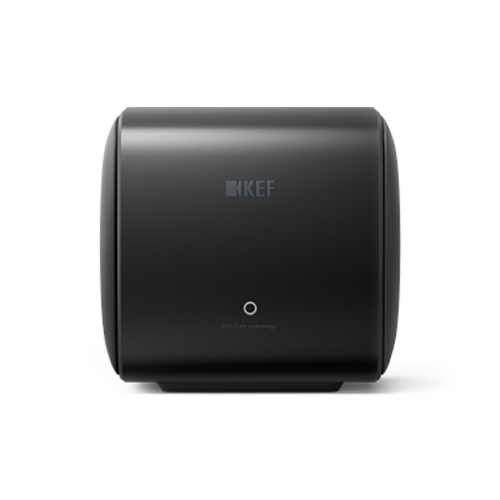 Accurate, deep bass with speed and power
Accuracy is a KEF hallmark, whether in full-range loudspeakers or in subwoofers dedicated to delivering sensational bass. An array of innovative technologies come together to ensure KC62's bass accuracy, including the P-Flex surround for precise driver movement and Smart Distortion Control Technology that reduces distortion, while performance is maximised via KEF's Music Integrity Engine.
P-Flex (aka Origami Surround)
The P-Flex driver surround has a unique pleated design inspired by Origami, the Japanese art of paper folding, engineered to better resist the acoustic pressure in the cabinet to allow the driver to move more precisely compared to traditional surround designs. The result is deeper bass extension and a more accurate and detailed bass reproduction.
The right subwoofer for you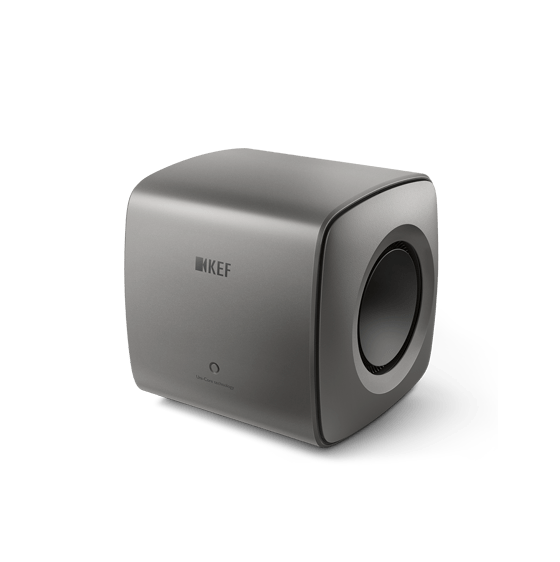 KC62
Subwoofer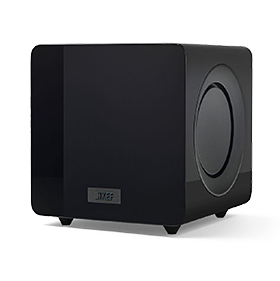 KF92
Subwoofer
---
The ultra-compact subwoofer that maximises bass from minimum space
The cabinet volume is 63% smaller than KF92
The perfect balance of compact size and impressive performance
Max SPL is about 2 times louder than KC62
---
2 x 6.5"
Uni-Core force cancelling
---
---
110 dB
(about 2 times louder than KC62) equivalent to Live Rock Music
---
246 x 256 x 248 mm
(63% smaller in volume than KF92)
---
Frequency Response (-3dB)
---
---
See how it looks in your home
Not sure which colour to choose? Try our Augmented Reality function to check out how incredible KC62 will look and see which colour suits best in your home.
*Actual product colour may vary from the AR version shown. 
**This feature is not supported on Chrome for iOS devices.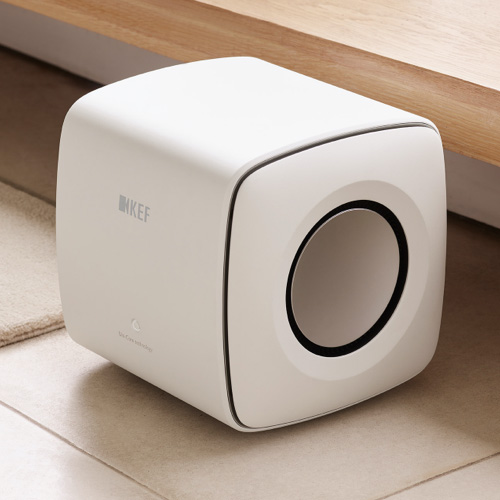 Experience
KC62 is a feat of engineering that far exceeds expectations. The best way to experience the unprecedented KC62 is up close and personal.
FIND A RETAILER
The Details
---
SPECIFICATIONS
Design
Uni-Core Force Cancellation
Drive Units
2 x 6.5" drivers
Frequency Response (±3dB)
11Hz – 200Hz
Line Output
RCA phono sockets
Line Output High Pass Filter
40Hz – 120Hz, Bypass
Amplifier Type
Built-in Class D
Amplifier Power
1000W RMS (2 x 500W RMS)
Variable Low Pass Filter
40Hz – 140Hz, LFE
Input
RCA phono sockets
Speaker level inputs
Power Requirements
100 - 240V, 50/60 Hz
Dimension (H x W x D) with Rear Panel and Feet
246 x 256 x 248 mm (9.7 x 10.1 x 9.8 in)
Colour
Carbon Black
Mineral White
Titanium Grey
KEF reserves the right, in line with continuing research and development, to amend or change specifications. E&OE.
---
AWARDS & REVIEWS
---
Video
---
Seamless.
Running a Quad system, including 909 amp and 2805 ESLs. The Kef allows me to fine-tune the bass element, without allowing it to be intrusive. I'm positioning the Kef behind one of the speakers and the results (and the subterfuge) are excellent.
Worth Every Penny
The LS50 Wireless 2 doesn't desperately need low frequency help, but some of my music, in particular Saint-Saens Danse Macabre Royal Scottish National Orch with Jarvi has a large drum rumbling along at the beginning. This is beyond the scope of the LS50 and where the KC62 really earns its keep.
Not Fit and Forget requiring a certain amount of experimentation, and fiddling in order to match the room position and system volume. Abandoning the easy LFE mode and adopting Manual Setting helped here. Once sorted the low frequency extension is quite extraordinary, sometimes too much with tube trains grumbling beneath various London venues or transmitted to mics via poorly isolated mic stands. The KEF Connect App works very well and enables reduction quickly if needed.
My only concern is the naked drivers on a device so exposed and at floor level, some protective cover might have been a good idea.
Otherwise wholeheartedly recommended, not essential, but very much recommended.